Adrian Knight
---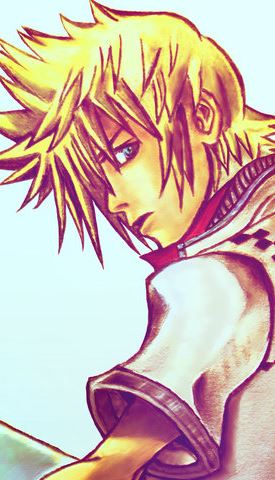 Basic Character Information
---
Starting Bonus:
Pocket Change
First Name:
Adrian
Middle Name/Initial:
Xerxes
Last Name:
Knight
Epithet:
Yet to be Obtained
Age:
30
Gender:
Male
Race:
Human
Faction:
Marine
Profession:
Interrogation Specialist, Arms Specialist, RPS Specialist, Shipwright.
---
Physical Appearance
---
Height:
5'5"
Weight:
145 lbs.
Hair Style:
Spiky and  curved to the right and up.
Hair Color:
Dirty Blonde in the winter, Bright Blonde in the summer.
Eye Color:
Cyan
Scars:
Dots where he used to have piercings all around his eyebrows, lips and nose. Scar on his left hand from it being stabbed by a trident. Line going down the middle of his face with multiple perpendicular, intersecting lines. As if his face was opened up. His whole body has various scars in places where he was experimented on as well as an array of scars from being flogged.
Clothing and Accessories:
Regardless of his uniform, Adrian is always wearing a full-bodied disguise to hide his features. Most importantly with this garb, he is always wearing a mask. While his eyes are cyan, he wears contacts that are all-white and even powders his face to seem extremely pale. Even his hair is concealed by a nearly skin-tight hood connecting to his mask. The only part visible is his eyes.
When he does decided to go out without his disguise, he simply wears pajamas and a loose shirt. He really doesn't care about how people see him, and typically he is not going out for duty without his disguise. He keeps his disguise black and blue to match the marines' blue, but will wear an official marine uniform over his garb if need be. The disguise uses long-sleeved gloves and boots to conceal his hands and feet.
Description:
Adrian, while not bulky, seems to be carved out of marble. He has very compact and defined muscles, but would seem slender underneath clothes. He has no acne and is generally very clean. In fact, some might say he is obsessive over his own hygiene. His nails are always taken care of and he never allows his chin to develop hair. While he doesn't care about his body, his mouth would be too warm with hair. On his back is a tattoo of an upside-down mountain and a noose coming down off of it. The mountain has the color of blue ice and there is mist circling around it. Despite his age, he seems incredibly young.
---
The Past
---
Main Traits:
Easily Calm, Violent (not related to anger), Tactical, Confident, Narcissistic.
Likes:
Winter weather, Ice cream, being superior to others,
BDSM,
Sailing, Abusing his powers as a marine.
Dislikes:
Civilians, Righteous people, certain people above him, zoan-users, animals.
Unique laugh:
While it doesn't have a unique sound, it always seems either condescending or lawful evil.
Hometown:
Tequila Wolf
Personality:
Adrian is a very calm and collected person, rarely ever flustered as usually he feels he is the dominant one in the situation. If, for some reason, this is perverted to where he feels inferior to the person, he will immediately see them as a definite threat and will be a lot more cautious about that threat. He has a nearly indomitable confidence in everything says, does, believes, etc. While he may be calm, he does love the act and idea of violence. Enabling his violent nature results in great pleasure for him and he will take any moment he can to inflict pain on something or someone.
As a result of being so collected, Adrian is a very tactical-thinking person. He considers the options every person has, possible consequences, definite consequences, how they react to other options, and more when it comes to the battlefield. This way of thinking even applies to life in general for him, which he takes pride in. Another big trait of his that is a result of another is his narcissism. He loves himself, even thinking of himself over any significant other he's had or will have. In fact, this makes him feel that most relationships are pointless until someone amazes him enough to make him think of them over himself.
However, it is not easy to make Adrian think someone is amazing, especially since he has a superiority complex. When it comes to those he knows are superior to him, he will dislike them if they have not gained his respect. Naturally powerful punks do not gain his respect, but hard-earned power or power earned through action in general will gain his respect. This is more of a gray area, so the reasons he may or may not respect someone being more powerful than him will change based on how they make him feel. The personality of another definitely affects this ideal. Lastly, Adrian hates civilians due to multiple factors. They are usually always naive or ignorant, they often come off as very entitled and they are more often than not useless. The only exception to this are people who truly know pain or the struggle.
Ironically, Adrian respects the poor as they do not come off as entitled and are often less naive. Actions, however, matter very much to Adrian and the actions of someone can create unique dynamics with how Adrian acts towards them.
History: