Cameron Belrose
---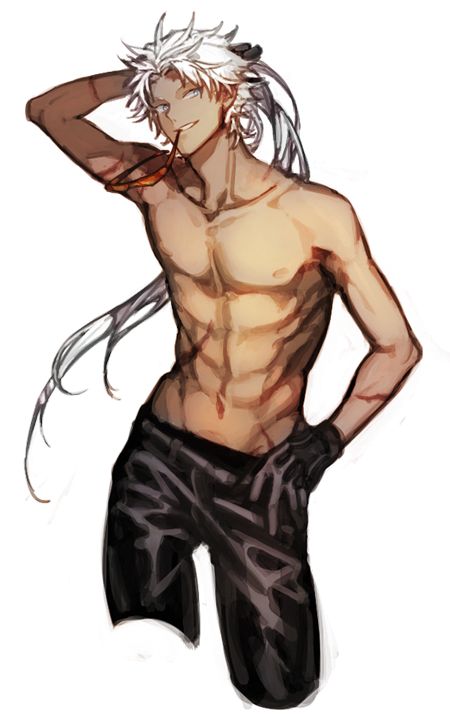 Basic Character Information
---
Starting Bonus:
Can't Touch This
Super Rookie |
Starting Bonus Roll on page 6
First Name:
Cameron
Middle Name/Initial:
N/A
Last Name:
Belrose
Real Birthname:
Sir Tarpon IV of The Atlantic Clan
Epithet:
The Silver Royal
Age:
17
Gender:
Male
Race:
Merman
Faction:
Pirate
Profession:
Shipright- As a natural born child of the sea, Cameron has helped sailors for fun his entire life. Naturally he learned how to repair their ships (took a lot of trial and some poor unfortunate souls.)
Martial Artist- He is classicly trained in the fishman matrial arts as well as the secret merpeople techniques.
---
Physical Appearance
---
Height:
6ft 11in
Weight:
185Ib
Hair Style:
His hair is styled short and spiky, with two tendril looking strands coming out the back of his head almost like antennas.
Hair Color:
Silverish White
Eye Color:
Silver
Scars:Clothing and Accessories:
Cameron is not a fan of hiding his body. He likes to be seen in a pair of baggy black long pants, socks, and a pair of black shoes. A white shirt or a jacket is kept nearby in case it is needed. Cameron wears a silver trident earring in his right ear.
Description:
Cameron has a lanky yet toned build. When he allows people to touch him they will feel a bit of solid muscle. Like satin over a hard wood. Cameron looks like an Olympic swimmer, with a nice butt, a flat stomach, and a winning smile. People really do not use handsome to describe Cameron, instead, they use beautiful. When wet for too long his bottom half blends into each other to become a long elegant silver tail (like the one below). Otherwise, he looks completely human.
---
The Past
---
Main Traits:
Kind, Go with the flow, thoughtful
Likes:
Hot guys, adventure, dancing, and licking stuff.
Dislikes:
Needless violence, the color, the smell, and the plant lavender. He also tolerates the government as much as tapeworms.
Hometown:
Fishman Island
Personality:
Outside of combat Cameron is soo laid back. His mood and attitude just go with the breeze. He likes to take the easy way out on things not happy with just a head on confrontation. "Why not enjoy life instead of making it difficult?" Cameron usually behaves like an eccentric hippie, more so doing things because he is either asked to or really wants to do it. If he really wants to do a thing then good luck keeping him from getting it done.
When in a battle Cameron switches gears to become more militaristic. It is nothing personal to his enemies but he becomes cold compared to his usual kind and sunny self. The change comes from years of mental conditioning and training. His mind changes from a gentle breeze on a grassy plane to a tornado hell-bent on destruction. He is not a fan of causing others to suffer so he goes for a quick solution instead of dragging a battle out.
History: